healow: The Most Widely Used Telehealth Solution
healow TeleVisits Utilization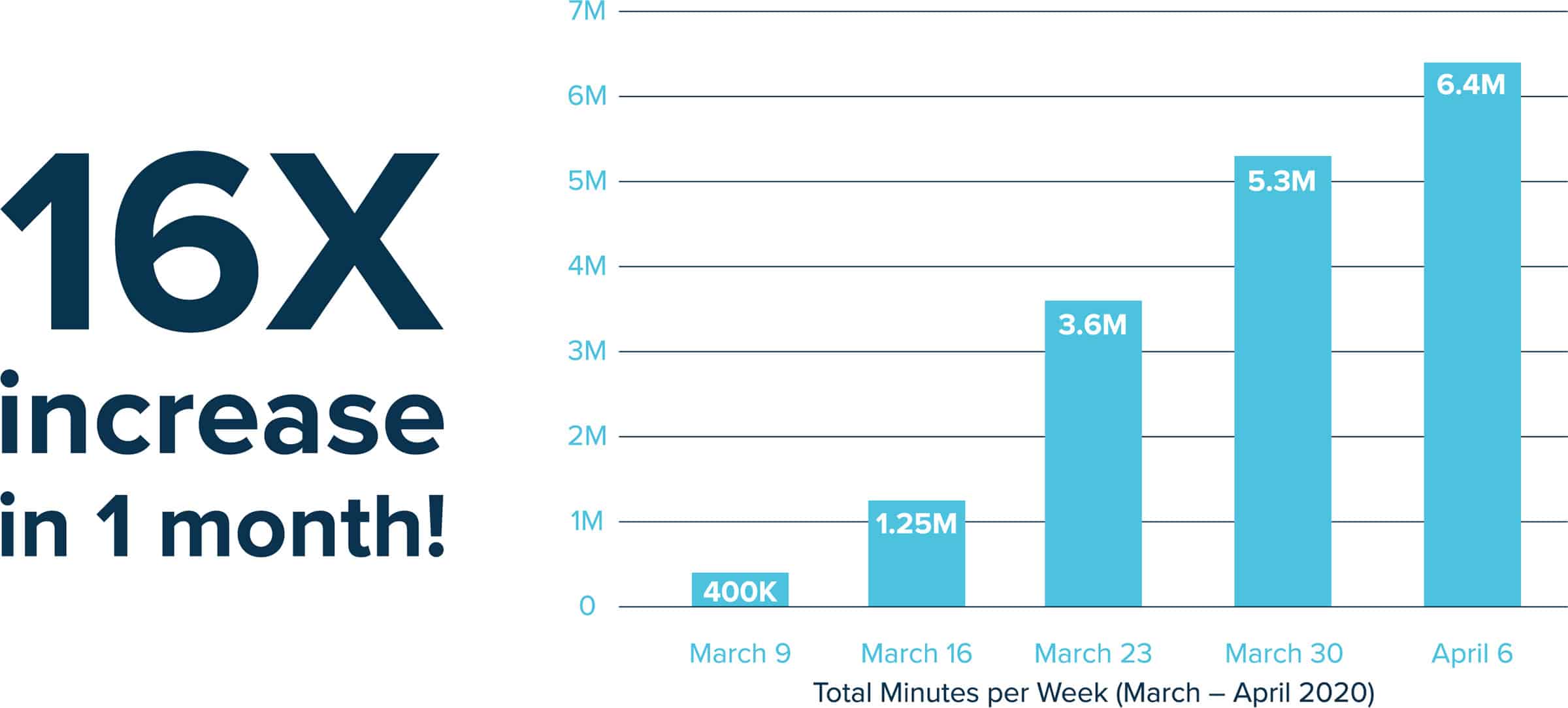 Customer Success
Reinventing Each Step of the Patient Journey
Today's medical practices are reinventing themselves for new realities by rethinking the previsit process with easier and safer booking and check-in procedures, making the patient encounter more efficient, and focusing more attention on post-visit follow-up care and strengthening of Patient Engagement.
Staying in Business With healow TeleVisits™
Find out how providers across the nation are using healow Telehealth Solutions to keep their doors open during these challenging times.
healow TeleVisits: Expanding the Range of Specialty Care
Hear directly from a variety of specialty practices on how they are using healow TeleVisits™ to deliver comprehensive care to their patients.
How TeleVisits are Making Care Simple at Central Ohio Primary Care Physicians
Central Ohio Primary Care Physicians, the largest physician-owned group in the country, is utilizing healow TeleVisits™ to make care easier for patients. Jamie K. Stamps, DO., talks about how televisits helped in assuring a patient they didn't have the coronavirus.
Vital Care Family Practice: How One TeleVisit Saved a Patient's Life
Dr. Amar Shah, owner and physician at Vital Care Family Practice, a practice located in Chesterfield, VA, speaks about his recent experience with healow TeleVisits. Dr. Shah explains that through telehealth technology, he was able to advise one of his patients to seek immediate medical attention, thus saving his life.
How TeleVisits Have Transformed First Choice Neurology
For the past few years, Dr. Jeff Gelblum, Sr., Attending Physician at First Choice Neurology, and 90 other providers, have been using healow TeleVisits. With a solid understanding of telehealth, they were instantly able to make a difference in the wake of the COVID-19 pandemic.
How Trusted Doctors are Using TeleVisits to Care for Patients
Dr. Sandy Chung, Chief Medical Officer of Trusted Doctors, talks about how quickly healow TeleVisits were activated and how helpful they have been since the COVID-19 crisis started.
How Comprehensive Sleep Center Has Used TeleVisits in a Time of Crisis
Michael Lahey, Clinical Director of Comprehensive Sleep Center, explains how quickly healow TeleVisits were set up and how they are bringing comprehensive care to his patient base during the health crisis.
How TeleVisits are Bringing Convenience and Ease of Care to Patients at SG Pediatrics
healow TeleVisits are helping providers at SG Pediatrics deliver quality care and will continue to be an integral part of these providers' workflows.
What Central Ohio Primary Care Physicians are Doing to Combat COVID-19
Dr. David Sharkis, a physician at Central Ohio Primary Care Physicians, talks about how healow TeleVisits are a great solution for those with transportation issues and keeping patients out of the emergency room.
How Dallas Renal Group is Using TeleVisits to Provide Safe Care
Dr. Diana Mahbod, a physician at Dallas Renal Group, talks about how healow TeleVisits allows providers to see patients with stable chronic medical conditions, review lab results, review vitals, address patient concerns, send prescriptions, and create follow-up plans.
Priti S. Jadav, MD: How TeleVisits Can Help With Internal Medicine
Suresh Jadav, an administrator at Priti S. Jadav, MD, talks about how healow TeleVisits were put into action quickly and that it has been an effective option to see patients during the COVID-19 pandemic.
Entira® Family Clinics: How healow Delivers Remote Care
Entira Family Clinics trusts the performance and security of healow, integrated with eClinicalWorks, to deliver care remotely amid the COVID-19 pandemic.
Northern Medical Group, PLLC: How TeleVisits are Aiding Patients in New York
Cathie Guigliano, a clinical admin at Northern Medical Group, PLLC, talks about how the practice quickly adopted healow TeleVisits in early March and within ten days conducted 487 televisits.
Shield Medical Group: How TeleVisits are Connecting Patients and Reducing Hospital Visits
Dr. Kulmeet Kundlas, a physician at Shield Medical Group, explains how healow TeleVisits. are preventing hospitalizations and keeping patients of all ages at ease knowing that the software is secure and easy to use.
Trinity Medical Associates LLC: How TeleVisits are Bringing Assurance to Patients
Dr. Jeffrey Vasta, a physician at Trinity Medical Associates LLC, talks about how one of his patients with low blood sugar was able to get the care she needed via televisit and did not need to go to the ER.
How Potomac Urology Is Using Televisits to Reduce ER Visits
Dr. Nilay M. Gandhi, a urologist at Potomac Urology, talks about a patient with urinary symptoms that, if left untreated, could have led to an ER visit. Luckily, the provider was able to examine the patient via televisit and provide proper care.
How Televisits Are Bringing Care to Patients From All Over the World
Michelle Johnson, the COO of Healing Hands of Nebraska, talks about how televisits make it possible for physicians to provide remote care to overseas patients.
MD TruCare: Embracing the telehealth mindset
MD TruCare, a small practice in Grapevine, Texas, quickly deployed healow TeleVisits™ to cope with the COVID-19 pandemic. Providers converted 80% of visits to TeleVisits™ within a day, and 100% within a week. Dr. Imran S. Kahwaja says patients like the ease and safety, while he has expanded his service area and can accept more referrals.
APLA Health: Using Telehealth to Deliver Mental Health Services
At Los Angeles-based APLA Health, Dr. Sean Boileau and his colleagues have been able to continue to provide mental health counseling services to their patients, 80% of whom — including many in their 50s and 60s — have chosen to use telehealth options for their visits.
Controlling Coughs and Asthma With Telehealth
Dr. Juan C. Millon, a pediatrician who runs a one-provider practice in Doral, Florida, has increased his use of healow TeleVisits™ by approximately 50% since the COVID-19 pandemic began, allowing him to see patients who might otherwise not have access to care.
Controlling Coughs and Asthma With Telehealth
Dr. Juan C. Millon, a pediatrician who runs a one-provider practice in Doral, Florida, has increased his use of healow TeleVisits™ by approximately 50% since the COVID-19 pandemic began, allowing him to see patients who might otherwise not have access to care.
How telehealth is reshaping healthcare in Texas
Dr. Gregory Carlson, a physician at the practice, explains how healow TeleVisits™ are great for continuity and staying in touch with patients suffering from a rash or respiratory symptoms.
How Coronavirus Forced Positive Change
Dr. Ryan Knopp and his colleagues at Stonecreek Family Physicians in Manhattan, Kansas, hadn't previously used telehealth, but the coronavirus pandemic forced them to make a quick decision. They chose healow TeleVisits™ from eClinicalWorks, and have quickly implemented the solution.
How Petaluma Health Center Continues to Care for Patients With Telehealth
Providers at Petaluma Health Center needed a quick way to move their patient visits to a virtual setting. In almost no time, the practice was able to convert 90% of their patient visits to televisits. The ability to join a televisit without having to log into the Patient Portal and show what medications they are using has eased fear and increased comfortability for patients.
How Telehealth Continues to Simplify Healthcare
In less than 3 weeks, providers at Krohn Clinic, a 22 provider practice in Black River Falls, Wisconsin, have completed 100 televisits. Visit types at the practice range from appointments focused on chronic conditions to mental health visits.
Remote Care Made Easy With Telehealth
When COVID-19 started, all 65 providers at Pioneer Physicians Network, a multi-specialty practice serving over 59,000 patients in 18 locations in and around Akron, Ohio, started using healow TeleVisits™. In the last month, the practice has already conducted 2,100 televisits.
How Telehealth Is Aiding a Cardiology Practice
Satheeth Joseph, an interventional cardiologist at Brookhaven Heart PLLC, has utilized healow TeleVisits™ to deliver safe and secure care to his patients. 15-20% of all visits of the practice are televisits and the text and email link update has been a great and welcome addition patients are enjoying.
How Telehealth Is Aiding a Cardiology Practice
Within a week, Dr. Bradley M. Block and his colleagues at Block, Chase, Nation, and Smolen Family Medicine were up and running with healow TeleVisits™, and now conduct about 75% of their visits through telehealth, helping sustain the practice. The high quality of the video connections helped him confirm that a young adult patient of his in Japan had successfully overcome COVID-19.
healow TeleVisits: Expanding the Range of Orthopedic Care
Stephanie Crum and Juanita Dempsey from Scott Orthopedic Center talk about how televisits have been a great solution for patients that are unable to travel. They also talk about how a provider was able to talk to a whole family via televisit and that the technology will continue to be useful in the future.
Monitoring Injuries and Reducing Patient Anxiety With Telehealth
A patient had a cut on his toe and needed a way to see his doctor. Luckily, Gregory Carlson, MD, FAAFP, from TexomaCare Specialty Physicians, a 26 provider practice that brings care to over 3,000 patients with 33 locations throughout Texas, utilized healow TeleVisits™. With this telehealth technology, he examined the patient, monitored the status of the patient's health, and reduced the patient's anxiety.
Televisits: Making Surgical Consulting Easier
For Dr. Meena Singh, a Kansas dermatologist with Kansas Medical Center, P.A., healow TeleVisits™ have been a great tool for conferring with patients about upcoming surgeries. Once a diagnosis and treatment plan are in place, she can use a televisit to let patients know what to expect ahead of time, saving them a trip to her office. Telehealth is helping her expand her practice, reaching patients across the country and even in the U.S. Virgin Islands.
Caring for New Mothers During a Pandemic
Dr. Peter Alvarez and his colleagues at Women's Care Florida are using telehealth to provide care to pregnant women and new mothers throughout their network. They have been able to successfully address postpartum depression and the anxieties that come with being a new mother during the COVID-19 pandemic. Telehealth is an effective tool, he said, for evaluating which patients need to be seen in the office right away.
How a Practice Is Using Telehealth to Combat COVID-19 and Care for Patients
At Questcare Medical Services, PLLC, a 74-provider practice where 90,000 patients receive care annually in 14 locations throughout Texas, televisits continue to become the norm for patients and providers. Laura Latham, the Clinical Case Manager for the practice, tells us that 50-60% of all visits are now televisits.
Televisits provided a means for the doctor to send a patient for an MRI
Gotham City Orthopedics used healow TeleVisits™ to easily care for patients from home. Jeannette Garcia, Director of Business Development for the practice, talks about how a patient with an ankle injury was able to receive quick and effective treatment.
Why healow TeleVisits are Perfect for a Busy Schedule (Patient Story)
Dr. Jeffrey Gelblum from First Choice Neurology talks with Gloria Macdonald, a patient, about their experiences with healow TeleVisits™. Both parties are incredibly busy and are enjoying the convenience of telehealth. Without telehealth, Gloria Macdonald believes she would have missed the visit or ended up in the ER. Dr. Gelblum also explains how liberating the technology is to both himself and his patient who are now able to meet at whatever time is convenient to both of them.
McBride Orthopedic: High Quality Care via Telehealth
At Oklahoma's McBride Orthopedic Hospital, providers are using healow TeleVisits™ to provide post-operative care, review test results, and evaluate injuries. Patients appreciate being able to see providers without having to make a long trip to a clinic, which saves time, money, and stress, particularly for older patients. Providers are pleased with the clinical effectiveness of telehealth, which in one case included observing a 110-degree bend in a knee and obtaining high-quality photos to document that the healing process was on course.
Chronic Care Made Easy With healow TeleVisits
Before the COVID-19 pandemic, Dr. Wiliam Biggs, the Chief Medical Information Officer for Amarillo Medical Specialists, talks about how healow TeleVisits™ helped bring care to remote patients – some who lived 4 to 5 hours away from the practice. Since the pandemic started, 60% of visits are now televisits. Dr. Biggs, who specializes in endocrinology, explains that televisits have played a key role in staying in touch with his chronic care patient base. The device integration with external medical devices have also been important in treating patients with diabetes.
Making Care Easy With healow TeleVisits
Vimali Paul, M.D., Inc. is a three-provider practice located in Northern California specializing in internal medicine, family medicine, cosmeceuticals, and MedSpa treatment. Dr. Vimali Paul, a physician at the practice, talks about how many of her older patients – some who are over 90 years old – have been some of the most tech-savvy healow TeleVisits™ users. She explains how these patients can show her how they breathe, and she has been able to examine their musculoskeletal system by having them move their arms during a televisit. Dr. Paul also talks about how great it has been for patients to be able to show her their medication list or bottles and to conduct wellness visits.
Why Telehealth Is Great for Multi-Speciality Practices
Michelle Hurtt, a Senior Application Support Specialist for Allied Physicians of Michiana, LLC, explains how healow TeleVisits™ have been very helpful to bringing care to specialties of all kinds. Televisits have also been a great option for providers who want to make the most out of the time they spend caring for a patient.
healow TeleVisits: Numbers Don't Lie
Watch this video to find out how medical professionals are using healow TeleVisits™ to bring quality care to their patients and the numbers to prove it.
Telehealth Saves an Alaska Practice
At Southeast Medical Clinic in Juneau, Alaska, many patients travel by plane or ferry to receive care, so when the coronavirus pandemic hit and seriously limited physical office visits, the practice faced the loss of their entire revenue stream. But within four days, the practice had successfully converted their visits to healow TeleVisits™. The average age of those using telehealth is 80, and one patient has used telehealth to get authorizations necessary to continue her chemotherapy treatments.
Keeping Schedules Full With Telehealth
Bryan Roy, a nurse practitioner and COO at Southwest Orlando Family Medicine, tells us his practice went from having had only six televisits in the previous three years to 550 televisits in March alone. By April, 60% of all visits were televisits. Southwest Orlando is a multi-specialty practice with 13 providers and two locations that specializes in Chronic Care Management and serves 21,000 patients. Televisits have also helped providers gain a more holistic view of patients in their home settings. Telehealth kept the providers' schedules full, preventing furloughs.
Chronic Care Management Made Easy
At Long Island Select Healthcare, Chronic Care Management is very important. 87% of the patient population have a developmental disability and the average patient is on seven different medications. LISH is a multi-specialty practice made up of 8 locations and 68 providers who serve 6,000 patients. Although the practice had tried other CCM platforms in the past, eClinicalWorks was the best choice for them. The seamless and effortless workflow has helped the practice thrive. During the COVID-19 pandemic, the practice redistributed its staff so that the nurses became CCM coordinators and 2,000 out of 3,500 eligible patients are now getting that twenty minutes of non-face-to-face time with their caregiver.
How Telehealth Is Sustaining a Virginia FQHC
At HealthWorks for Northern Virginia, Practice Administrator Jesse Burke says there's "no downside" to using healow TeleVisits™. The COVID-19 crisis speeded the FQHC's adoption of telehealth, which has been particularly helpful for psychiatry, behavioral health, and teledentistry. Having a HIPAA-compliant solution that is easy to implement has helped the practice meet patient needs and even led to their receipt of a $100,000 COVID-19 grant.
Bringing Care to Busy Patients With Telehealth
When patients are hesitant to come into the office at Waverly Health Center, healow TeleVisits™ have been an effective alternative for patients to receive quality care for certain types of visits. Medication follow-up visits are particularly effective for busy patients with depression, anxiety, or ADHD. Waverly Health Center is a five location multi-specialty health center made up of 41 providers who bring care to 60,000 patients a year. When used appropriately, Dr. Courtney Bochmann, a physician for the practice, believes patients and providers will be very happy with healow TeleVisits.
How Telehealth Is Helping Students During a Pandemic
Because of the COVID-19 pandemic and the closure of campus, healthcare professionals working for the Indiana University Bloomington health center had to accelerate their usage of telehealth to care for students in need of help. healow TeleVisits™ gave students a way to meet their healthcare needs and keep up with their regular medication routines.
Reshaping Pediatric Practice during COVID-19
Rainbow Pediatric Center recognized that with the arrival of the coronavirus pandemic, they needed to restructure their offices, including designating one of their three locations exclusively for sick visits, while also expanding their psychiatric and behavioral health services for patients impacted by the stresses of the ongoing pandemic. The practice already uses telehealth, healow Open Access® scheduling, and innovative check-in procedures, and is looking forward to implementing healow® CHECK-IN for a safer, contactless check-in experience.
How healow TeleVisits™ Make for More Meaningful Patient Visits
For Greg Gelburd, D.O., owner of Downtown Family Health Care in Charlottesville, Virginia, healow TeleVisits™ have proven to be more productive than he had expected. They are useful for handling many nephrology visits that focus on discussing diet and lifestyle, and both patients and provider tend to me more relaxed when they are in their homes — leading to a more in-depth discussion. Telehealth has even given Dr. Gelburd more time to tend his garden and chickens!
How Telehealth Transformed the Thirlby Clinic
Before the COVID-19 pandemic, Dr. Steve Lamie explains that providers at the Thirlby Clinic rarely conducted telehealth appointments. Now, 99% of appointments are done through healow TeleVisits™. With televisits, Dr. Lamie has been able to follow up with patients a day or two after they are treated for heart failure. Televisits have also been great for checking in on chronic care patients.
How a Multi-Specialty Is Caring for Chronic Patients
HopeHealth is a multi-specialty practice serving 50,000 patients per year. Before expanding to 96 providers and 13 locations, HopeHealth began as a grassroots HIV support organization. Kim Hannah, an RN for HopeHealth, explains that Chronic Care Management is a big part of the practice. Since the COVID-19 pandemic began, Hannah has been recommending that patients, many of whom are in assisted living facilities, try telehealth. This has been helpful in bringing comprehensive care to these patients and also bringing together patients and family members. Hannah also appreciates how all of the health information can be found in one place, saving her time and making it easier to organize information before an appointment.
Making the Most Out of TCM
Angie Walker, an Office Manager at Dr. Randy Walker Family Practice & Allergy Clinic, says that the practice started doing TCM work at the end of 2017 and quickly realized that they weren't seeing success despite putting in the work. After adding the eClinicalWorks TCM module, they began seeing increasingly better results each year. Walker explains that the dashboard is so easy to use that a nurse who recently retired and loves the program continues to work part-time and aid the practice successfully.
Why Remote Training Works With eClinicalWorks
Starting in April, Dr. Amy Bruton, the owner of The Whole Woman, started using the eClinicalWorks EMR for the first time. Because of COVID-19, Dr. Bruton and her front-office staff were unable to receive on-site training and successfully learned how to use every aspect of the EMR remotely. Dr. Bruton also enjoyed the follow-up training, where any questions she had were resolved.
Integrating Telehealth into a Multi-specialty Group
Advocare, LLC, a large, physician-owned multi-specialty medical group with nearly 200 locations in southern New Jersey and greater Philadelphia, hadn't been doing much telehealth in the past. But when the coronavirus pandemic struck, the practice was able to quickly ramp up use of healow TeleVisits™ and expects to make remote visits an integral part of their offerings going forward. They have been pleased at how quickly they were able to implement the solution, and how smoothly it integrates with their eClinicalWorks EHR and Practice Management solution.
How Telehealth Is Changing Healthcare in Southern California
Frank Xu and other providers at The Pediatric Group of Southern California, recognized that telehealth has been helpful in different ways. He explains that it has been useful in reaching people that live far away from the practice, chronic care patients, and general counseling. Dr. Xu is also pleased that reimbursements have been good and on time – in some cases adding on a bonus for using a telehealth visit.
Why you should use healow Telehealth over other solutions
Download Our Fact Sheet
Expand access to care with telehealth